Home
Welcome to the Dallas-Park Cities Philatelic Society website! We are a stamp club serving collectors in Dallas, Texas, and surrounding communities. Membership is open to anyone of good character who is interested in stamps, and learning more about them.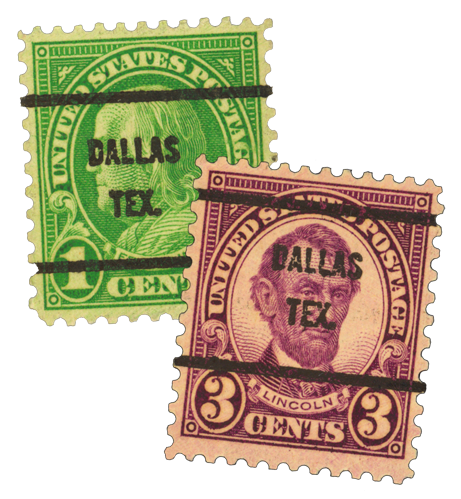 Our meetings feature door prizes, show and tell sessions, auctions, a variety of stamp-related programs, member presentations, and guest speakers. In addition, members can take home on approval stamp collections and purchase individual stamps at substantial discounts from Scott catalogue value. Visitors are always welcome.
We meet at 7:30 p.m. at the Edgemere Retirement Community, 8523 Thackery Street, Dallas, TX, 75225 on the second and fourth Wednesdays January through October, the second Wednesday in November, and for a Holiday Dinner on the second Wednesday in December. Most members show up around 7:00 p.m. for conversation, buying, selling and trading.
Want to join our Society and gain full access to all we have to offer? Select the membership link above for an application.
Upcoming Meetings
[Due to Covid-19, members and guests must wear masks regardless of vaccination status when in public areas of the Edgemere Retirement Community. ]
December 14, 2022 - Holiday Dinner.
January 11, 2023 - Program to be determined.
January 25, 2023 - Program to be determined.
February 8, 2023 - Program to be determined.
February 22, 2023 - Program to be determined.
Selected meetings are also broadcast on the internet. To receive an invitation to join one of our internet broadcasts, please contact our club president.
Upcoming Area Philatelic Events [Click on sponsor links for current event status.]
November 11-12, 2022 - MID-CITIES STAMP CLUB EXPO, Grapevine Convention Center, 1209 Main St., Grapevine, TX 76051 (Friday 10-5, Saturday 9-4). Sponsored by the Mid-Cities Stamp Club.
December 9-10, 2022 - DALLAS TSDA. DoubleTree Hotel, 1981 North Central Expy, Richardson, TX 75081. (Friday 10-5 and Saturday 10-4). Sponsored by the Texas Stamp Dealers Association.
June 23-24, 2023 - OKPEX 2023, Reed Conference Center, 5800 Will Rogers Rd., Midwest City, Oklahoma 73110 (Friday and Saturday 10-6). Sponsored by the Oklahoma City Stamp Club.
September 15-17, 2023 - GREATER HOUSTON STAMP SHOW, Humble Civic Center, 8233 Will Clayton Rd., Humble, TX 76051 (Friday and Saturday 10-6, Sunday 10-4). Sponsored by the Houston Philatelic Society.
Other Area Philatelic Societies
Arlington Meeting: 7:00 p.m. First Wednesdays (second Wednesday in the event of a national holiday); Bob Duncan Community Center, 2800 S. Center St.
Euless Meeting: 7:00 p.m. Third Wednesdays (no meeting in the event of a national holiday); Central Station Marketing, 12750 S. Pipeline Rd., Suite 1C.
Granbury Meeting: 7:00 p.m. Fourth Tuesdays, Brentwood Activities Center, Emerald Bend Road West.
Fred Sawyer Chapter #56, American First Day Cover Society Meetings: Second Saturdays (no meetings in summer except for June picnic), Wineburgh Philatelic Library located inside McDemott Library at the University of Texas at Dallas
Want to start collecting?
We will be thrilled to see you at one of our meetings to help you out. In the meantime, check out this information on stamp collecting basics.
Have you found or inherited stamps?
If you have inherited or found a stamp collection, we have some helpful suggestions about what to do.
Need to donate stamps?
We know of some worthy causes that accept donations of stamps and stamp collections. Here are some details.